Many pharmacy owners aspire to grow their pharmacy business. They aim to become more profitable, increase their customer base, or add locations. When they purchase a pharmacy point-of-sale system, they take the first step towards their goals. Increasing efficiency, locking down processes and workflows, thus decreasing the opportunity for error. These are all good ways to get that profit margin trending upward.
But, for many pharmacies, that might be where it stops. Limited time and resources, along with the innate stresses of running a small business take their toll. Eventually the idea of "better" disappears, replaced with the plateau "good enough". Sound familiar?
"Good enough" isn't a bad place to be. It's better than the alternative. But is it where you really want to be? If it's not, but the idea of what you need to do to continue to grow your pharmacy business seems overwhelming, try focusing on these 3 areas. With the right additions to your pharmacy POS system, you can make some big leaps without breaking the bank.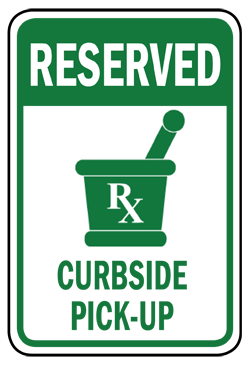 Expand your service area: You can serve a larger number of customers without adding a new location, or knocking down walls to make more room in your pharmacy. The answer is curbside delivery. It's been a popular service with restaurants for some time but can be applied to all kinds of businesses, including pharmacies. Many hospital outpatient pharmacies have already adopted this concept to improve patient care and boost business by delivering prescriptions at bedside prior to discharge. For independent pharmacies, it's a simple matter of reserving a parking space or two up front for prescription pickup. In either scenario, RMS' EvolutionPOS V2 Tablet is the key to bringing it all together. No running back and forth to process payments or grab receipts. Just take the prescriptions and your table to the patient and process the transaction from start to finish. This is a valuable service to your patients and we expect that more businesses will begin to offer these kinds of services. Get ahead of the game and capture some business that you might not have otherwise. (and get this cool sign to the right!)
Focus on key products: An easy way to stimulate growth is to focus on a specific category of products in your pharmacy and figure out how to increase sales of those items. Maybe It's not possible for all of your products, but we know at least one way that you can make it crazy easy to boost supplement sales. Enter the RMS interface to Ortho Molecular Products' Digital Replete Solution. When you sell a prescription, the interface connects to the Ortho Molecular database and makes recommendations on supplements that a patient should take to counter the side effects of nutrient depletion. It's a free add on service to all RMS customers who stock the Ortho Molecular line of supplements. With little to no additional effort on your part, you'll be able to increase sales of high margin supplements.
Take care your customer base: Every time you expand a service, or add new products, you are giving your customers a reason to shop with you. But what keeps them shopping? This is where customer loyalty programs come into play. Rewards and coupons encourage your customers to come back to your pharmacy meaning you can focus on adding new customers instead of worrying about losing them.
Growing your pharmacy doesn't have to mean you're taking giant leaps or making huge changes. Small tweaks with the right technology applied are the way to go for busy pharmacies.
{{cta('55e72322-a519-4949-885e-bf97197a7ded','justifycenter')}}