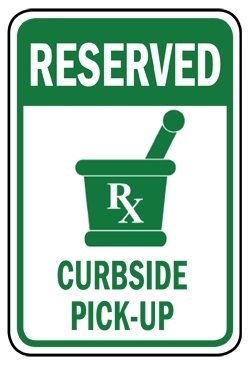 This blog often discusses the benefits of implementing a curbside pickup program. It's something we've known was a big opportunity for local pharmacies since the release of our original EvolutionPOS handheld register solution. And as we've predicted at RMS, more and more retail verticals are jumping on curbside pickup. Just this week I pulled into the grocery store parking lot to find them reserving spaces for grocery pickup.
The increasing popularity is both good and bad. On one hand, it means that customers will be comfortable with this service model, so customers buy-in and participation is built-in. On the other, if you're late to the party on implementing a curbside service, you're giving the advantage to your competition.
We've covered all the reasons you might want to implement a curbside service in your pharmacy, and made it easy to implement the program using our EvolutionPOSV2 tablet. But maybe you still aren't sure if curbside pickup will work for your pharmacy. For a majority of pharmacies, the investment in technology and the 1 or 2 (or more!) reserved parking spaces will pay off. Here are 4 big reasons why.
Convenience – Anyone who's ever fought with car seats can attest to wondering if a stop is worth the hassle of unbuckling the kids from the seats, unloading them from the car, corralling the kids while you shop, and then loading everybody back up again. It's a pain. Especially if you're just picking up one or two small items. This is why curbside works. The same reason that you can go into any coffee place or fast food restaurant with a drive thru and the line will be shorter inside than out. It's just easier for many people for any number of reasons. From dealing with kids, or because of a disability, or maybe even just not wanting to leave a dog in the car unattended on a hot day. The convenience of curbside pickup service can't be beat.
Keeping it personal – Customer service ranks right up there with convenience when it comes to delighting and retaining customers. While curbside pickup is a quick and easy interaction, it's still personal. Customers still get the opportunity to interact one-on-one with pharmacy staff. They won't have 3 honking cars in line behind them in the drive thru or be worrying that customers inside the pharmacy can hear their conversation. Curbside allows you to add convenience without losing the personal touch that makes your pharmacy special.
Taming lines – While people shop because of convenience and service, they stop shopping because of wait times. Curbside pickup offers you another outlet to serve customers without having to physically expand your pharmacy. Having shorter lines while serving more customers is attainable with the right services and tools to support them.
Competitive reasons – It's no secret that just about every chain pharmacy across the country has a drive-thru. They know it increases business and makes things more convenient as mentioned above. So what if you don't have a drive-thru? Bottom-line is this – you're losing business. So offering curbside pickup is a fast and easy way to stay competitive.
If you'd like to talk more about the opportunities curbside can create for your pharmacy, or learn how to get a free "Curbside Pickup" sign for your parking lot like the one above, give RMS a call today.
{{cta('5f4d7108-e993-4fef-84cc-7b68c7317886′,'justifycenter')}}