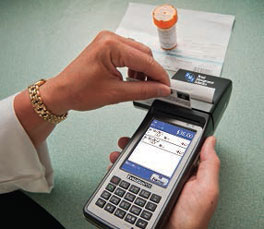 We often cite mobile technologies as the way to solve a plethora of problems faced by today's independent and institutional outpatient pharmacies. Unlike traditional register setups, mobile point-of-sale for pharmacies provides a flexibility that can be extremely useful.
While mobile has been a growing trend for quite some time, a majority of independent businesses are still trying to find a way to leverage this technology. There are many factors involved and questions to consider when trying to decide how mobile fits into your pharmacy. A good part of what holds many pharmacies back is simply not knowing where to start. Here are a few suggestions.
Evaluate your needs: Why do you need or want a mobile solution for your pharmacy? Are you looking to make drive thru signature capture easier? Implement curbside delivery or home delivery service? Are you a hospital outpatient pharmacy looking to kick off a meds-to-beds program? Or maybe you just need an additional register for your pharmacy but don't have the space for it. Whether you're looking to accomplish one or more of these objectives, knowing what you want to accomplish will always be your very first step.
Do your homework: You've determined that you want a mobile solution as part of your pharmacy and you've identified the areas where it would make your pharmacy run more effectively. Now you need to do some digging to find the right solution. For streamlining your drive-thru window, you may simply need a drive thru signature capture pad (like an iPad). If you want to implement a curbside, home, or bedside delivery service, a fully integrated mobile register is probably the way to go. Talk about what you're trying to accomplish with your POS provider so they can help fit you with the right mobile solution.
Review infrastructure: Mobile technology has one big requirement. A wireless connection. While your POS vendor should be able to provide you with a secure wireless access point dedicated to your mobile devices, those access points will still be dependent on the quality of your internet connection. Likewise, if you intend to use your mobile POS for home delivery, you need a reliable mobile connection (usually through a major wireless carrier) so that your device can run transactions and authorize credit card payments real-time wherever you need it to. Understanding any limitations that may impact your wireless connectivity can help you and your POS vendor choose the right option and plan for and special circumstances.
Create a rollout plan: If you just throw a mobile POS device into your pharmacy with no real game plan, chances are that you will have trouble getting buy in from your pharmacy staff and by extension, your pharmacy customers. Share with your staff what your vision is for this new technology and then make sure they get training on how to use it. Leverage the expertise of your pharmacy POS provider to help train pharmacy managers that can in turn train the rest of your staff.
Mobile point-of-sale for pharmacy is can be an incredibly valuable tool. Planning and preparing for the implementation of this technology is just as important as choosing the right option. We can help you evaluate your needs and help you to implement our EvolutionPOS mobile register or our drive thru signature capture app.
Read this case study where mobile POS helped this pharmacy manage a major crisis when a car crashed right through the front of their store!
{{cta('5f4d7108-e993-4fef-84cc-7b68c7317886')}}