When a friend asked me if I had any Tylenol in the house this past weekend, I directed her to my medicine cabinet. "It should be on the top shelf" I shouted down the hall. She came back to the kitchen with a blank look and empty hands, not knowing which of the bottles in my cabinet actually translated to Tylenol. This is because I generally buy private label over-the -counter medications from my local independent pharmacy and my friend was like so many others that have the idea that private label products are inferior because they cost less. While I grabbed the right bottle to cure my friends' headache, I wondered how many people continue to buy more expensive name brand OTC products because they are just like I used to be before I worked at RMS and just don't know any better.
For most independent pharmacies that I've spoken with, profit margins are higher on private label OTC's than they are on brand name even though the brand name costs the customer more. If this is the case for you, driving sales on private label OTC's can help to increase your bottom line and save your customers money. Here are some ideas for driving sales of these products in your pharmacy.
1. Drive sales with customer loyalty. Incorporating private label OTC's into your customer loyalty program can benefit you in more than one way. By offering incentives through loyalty on private label products you are encouraging participation in the program and could be introducing some of your core customer base to a new product. With the Customer Loyalty Program from RMS, you can encourage customers to purchase private label items by allowing them to earn additional loyalty points on qualifying purchases. Take the promotion a step further and actively target customers participating in your loyalty program that purchase brand name by printing a coupon for their next purchase of a private label product when they buy a brand name OTC product.
2. Compare and Save. Many people just don't realize the price difference. Shoppers in a hurry target the product they're looking for, grab it and go. You can make it easy to spot the price difference by printing shelf talkers comparing the brand name with the private label product. RMS customers using our Star~Plus POS solution can use the Signs & Labels program to create a Compare and Save shelf talker to easily highlight the difference in price and promote the private label option.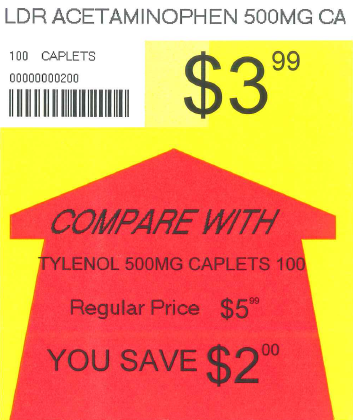 3. Product Placement. Where a product is placed on the shelf can sometimes have just as much impact on a customer's purchase decision as price or brand. This is especially true for first time shoppers or those that don't have a specific brand in mind. For example, about a year ago, I decided to try a new chili recipe that called for canned pinto beans. I'd never bought them before so wasn't looking for anything specific, When I found the right section in the store, I didn't bend down to look at the bottom row and price compare, I grabbed what was in easy reach at eye level. Now I buy the same brand every time (even though they are a bit more expensive) because they worked and I established a habit. By placing your private label OTC's in a choice location, you can help establish a similar purchasing habit for your customers.
4. Educate your customers. Your customers shop at a local independent pharmacy instead of a big box store for many reasons. One of those reasons is often that they get better care, advice and insight from knowledgeable staff. It's okay to educate customers purchasing brand name OTC's that they can get the same result for less money. Your customer will likely see this as you selling a less expensive product to save them money it's a win/win for both parties.
5. Untie your staff from the front counter. Even adept shoppers can get a little overwhelmed by the vast number of product options available today. And these moments of indecision are something you can take advantage of if you have staff in the right place at the right time. For me, the hardware store can be a particularly overwhelming place (have you seen how many different types of nails and screws there are?) which is why I go to a store that always has staff walking the aisles to help lost customers even though I have other options closer to home. I buy according to the staff recommendation pretty much every time. If you can have staff available to help overwhelmed or lost customers, you can help to influence which products they buy. You can even ring them up right in the aisle with our EvolutionPOS handheld register.
These strategies can be used beyond promoting your private label OTC products and applied pretty much anywhere that you'd like to drive sales in your pharmacy. If you'd like to learn more any of the programs that I've talked about please don't' hesitate to contact RMS. We'd love to help you implement these strategies and look forward to hearing how you promote sales of specific products in your pharmacy.
{{cta('13c80bf5-4a0c-4a19-8ebd-e9c9986cc8f4′)}}