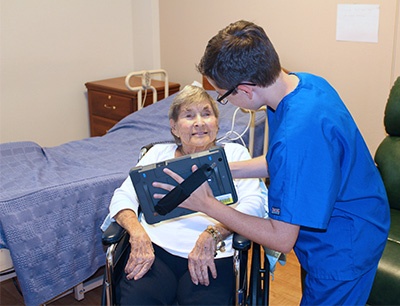 At RMS, we know that one size doesn't fit all. Even in the world of outpatient pharmacy, where regulatory and compliance requirements rule so much of the day to day activities, there are still different needs and various ways of tackling problems on patient care.
Of course, that makes the already involved process of evaluating point-of-sale systems even more complex. There are lots of different solutions to help outpatient pharmacies, but no magic button to press that will tell you just what you need.
While that's not much help, we do find a common thread in the questions we receive from outpatient pharmacy teams on a regular basis. Here are 5 of the most common questions we get asked, along with the reader's digest answer.
"How can RMS help me with Meds to Beds?" – Our EvolutionPOSV2 Tablet was designed with outpatient pharmacies and Meds to Beds programs in mind. It allows you to take the prescription transaction to the patient for increased patient adherence and a more customer centric experience.
"Can RMS accommodate my organizations credit card processing requirements?" – We have worked hard to cultivate and maintain relationships with many different credit card processors and are proud of the robust options we have available including P2PE, EMV, NFC, Tokenization and more. We understand that outpatient pharmacies often have to operate within specific guidelines for credit card processing and we do our best to make sure options are available to meet as many requirements as possible.
"Will it be easy to handle payroll deduction through RMS' POS?" – We've seen an especially big push in recent years for payroll deduction programs. Making it simple for employees to use the outpatient pharmacy as well as easy for pharmacy and payroll staff to manage it has become a big topic. With RMS, the employee can be identified by name, employee number or badge scan, and the sale can be easily tendered to the Payroll Deduction program
"Can RMS accommodate changes that my organization mandates?" – Just like credit card processing, there are likely a number of institutional requirements that your outpatient pharmacies have to meet. From business partner choices, to security, and more. That's why we take the concept of flexibility so seriously. It's our job to accommodate your needs, not the other way around. So, if in the future you change pharmacy systems, or credit card processing providers or whatever else, and we'll do our best to work through that change with you, rather than becoming just another obstacle to work around.
"How can RMS make it easy for my organization to manage multiple locations?" – Large organizations need to be able to scale easily and still manage locations centrally. Our Star~Link enterprise solution was created to make centralized management of multiple pharmacy locations easily achievable.
If you're looking for more, check out our whitepaper on what to look for in outpatient pharmacy point-of-sale. This free download takes you through 5 must have features so you can discover what functionality you may need in a pharmacy POS system. it's a great foundation for any outpatient pharmacy beginning to investigate point-of-sale options and will help prepare your team for the important decisions to come.