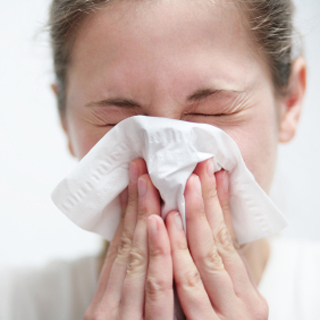 A couple of months back, I wrote about keeping your pharmacy customers happy and healthy this cold & flu season. I hope that you were able to run with some of those tips to boost sales this September and October. But as the ice grows ever thicker on my windshield each morning and I hear frightful tales of colds I'd rather not get, it's clear that the time to prepare is over, and it's probably only a matter of time before most of us will be headed to our local independent pharmacy to battle the next virus that circulates schools and offices around the city.
That's right, it's officially cold & flu season. That time of year when an innocent sneeze, cough, or errant sniffle will earn me wary looks from co-workers, family and friends and result in disinfectant being covertly sprayed over every surface I've touched. And I'm starting to wonder if my throat is scratchy from talking on the phone all day or is it a warning sign of some impending bug.
In September, I gave you 5 tips to make it crazy easy for your customers to prepare for cold & flu season. Now, it's time for 5 ways to help your customers survive cold & flu season when the next virus hits.
1) Merchandise-Make it easy for customers to find everything they need to battle their bug. No one wants to run around the store trying to find the cold medicine, Kleenex and disinfectant with a runny nose or a sick and cranky child. Put together an end cap filled with cold & flue items that is easily visible as soon as the customer walks in the door. You could even set up 2 end caps, one for adult medication and one specifically for children's medication.
2) Bundle- Your customers may be sick today but just getting over their current ailment shouldn't be the only thing on their mind. Bundle together purchase of a cold medicine with a good multi-vitamin so that they can not only feel better today but be healthy enough to fight the next virus to come knocking tomorrow. Pair your multi-vitamin with the sale of your higher margin private label products. Offer 50% off your recommended multi-vitamin with the sale of specific cold & flu remedies. *Hint: use your customer loyalty program to create a special offer to automatically discount the paired item when a qualifying item is scanned at your pharmacy POS system.
3) Recommend- Your expertise is invaluable to overwhelmed customers. Which medication will best alleviate my symptoms but not make me drowsy? What medication can I take with my current prescriptions? Helping your patients to choose the right OTC medication will help your customers to feel better faster and they'll be more likely to become repeat customers. Add some flair to that cold & flu end cap by posting some pharmacy favorites and recommendations with the products.
4) Educate-It's not too late to push flu shots in your pharmacy. And because only 35% of adult Americans actually get a flu shot each year, the opportunity for growing the number of patients receiving a shot each year is pretty much limitless. Promote your flu shot hours, provide documentation of the benefits or just talk to people about why they haven't been vaccinated yet.
5) Incentivize- Buying cold medication for a sick child is never going to be the highlight of anyone's day, but you can make it at least a little bit more palpable with some incentives for your loyalty customers or a unique BOGO promotion. Offer double points for rewards members on cold & flu products. Or set up a promotion where buying a specific cold & flu product results in a free box of Kleenex. *Hint: Run these promotions on your higher margin private label product.
Your customers can buy everything they need for the cold & flu season at a big box store or even a grocery store. What will set you apart and keep customers coming back is the level of service and individualized customer experience that your pharmacy offers that chain stores just can't compete with.
Karen Deckard came to RMS with a background in retail and customer service, and was initially brought on board as a Sales Assistant and managed IIAS certifications for RMS's pharmacy POS customers. Today, Karen works as a Customer Success Manager, striving to provide independent and institutional pharmacies with the tools and resources they need to succeed in today's competitive pharmacy market.
{{cta('c5dceec1-5a46-4059-bf78-6405618d195c')}}