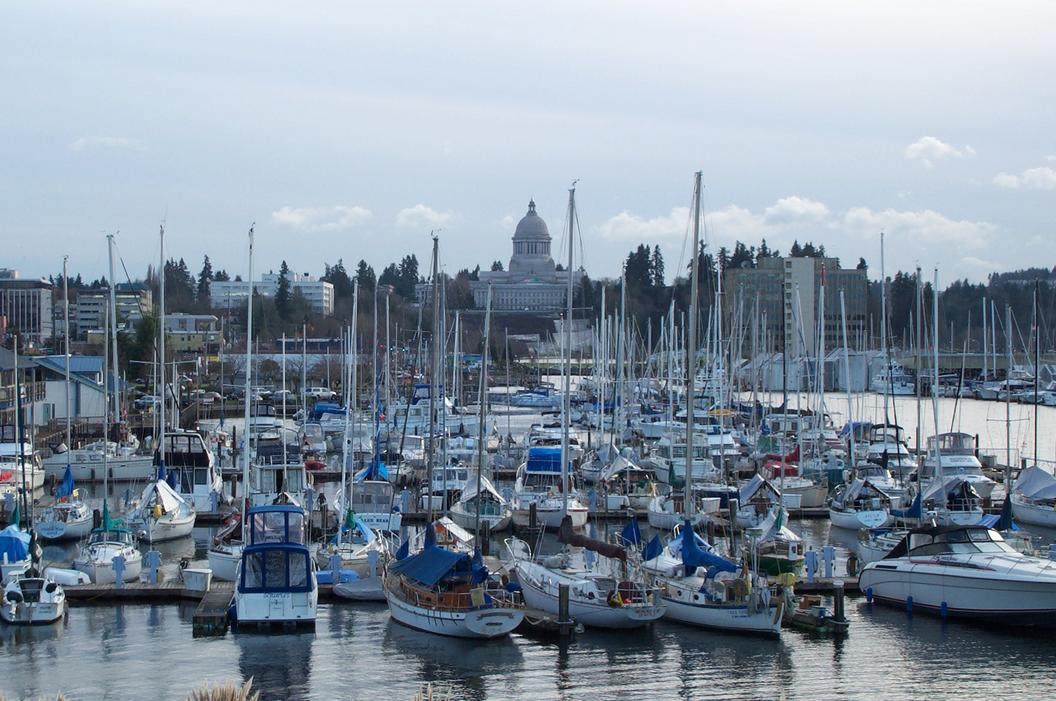 Olympia is not a metropolis. In fact, although Olympia is the capital city of Washington State, it's barely a blip on the radar compared to the better known hub of Seattle, just an hour north. That being said, since I've lived here all of my life, my hometown has started to feel decidedly more crowded than in days past. There are days that I look around and I can't believe how much the landscape of this place has changed.
While growth can be a good thing, the expanded population means that I am now faced with frustrations that I thought I'd be forever excluded from by living in a relatively small city. Of course there's more traffic than I prefer to deal with, but perhaps more frustratingly, almost everywhere I go, I'm faced with long lines and extensive wait times. I like to think I'm a fairly patient person, and having worked retail for a number of years, I have compassion for staff inundated with more customers than they can handle. But on more than one occasion, I've put down my pile of shopping and taken my business elsewhere.
Long lines make the top of the list as the number two over all complaint that consumers have about retail experience, second only to rude staff. And just like you wouldn't tolerate an employee treating a customer badly, you shouldn't tolerate customers having to constantly wait for service in your store. Luckily it's an easier fix than you may think.
If you have constant long lines, there are probably 2 main things that you can change to accommodate the volume of customers in your store. For starters, you need to staff appropriately. Your POS system should be able to break down transaction volume by date and time. This means you'll know when you are busiest and have staff on hand so that no customer is neglected.
The bigger problem is that if you don't have enough registers, those extra staff members won't do you much good when it comes to combatting long lines. Even the most efficient cashier won't be able to solve that problem for you. So you need more registers. It should be an easy fix. But in many pharmacies space is at a premium and cost is often a consideration. You can't simply ignore the problem and risk losing customers, but traditional solutions wont' work either.
If I've hit on a problem that you have experienced in your pharmacy, it's time to consider a technology solution that you might at first find a little unorthodox. EvolutionPOS is a mobile register designed specifically for use in independent and institutional pharmacies. The first of its kind, EvolutionPOS allows you to take the power of a full size traditional register wherever you need it. It doesn't take up valuable counter space (a cash drawer is optional and can be mounted under the counter), and it costs less than a traditional register setup. With integrated card swipe, scanner, receipt printer and signature capture, EvolutionPOS makes adding registers and obtaining much needed mobility cost effective and easy.
With EvolutionPOS, winnowing down long lines is simple using a process we call line busting. Equipped with an easy to use, handheld register, a cashier can pull customers with fast transactions from the line one at a time. For example, the clerk might offer to help any customer that will be paying by credit card and doesn't need to pick up any additional prescriptions from the counter. The Point-of-Sale becomes Point-of-Service as cashiers are able to ring up a transaction anywhere in the store. A customer with questions on supplements, for example, can be walked by a knowledgeable store employee right to the aisle and complete the sale right where the customer interaction occurs.
Outside of beating down those long lines, EvolutionPOS can help you shrink those lines by making it so customers don't always have to come inside the store to shop. Even stores without a drive-thru window can now help customers from the comfort of their vehicles by instituting curbside delivery and pickup. Many RMS customers now utilize this technology to allow customers to call in ahead of time and a pharmacy employee meets them at their vehicle to ring up the sale. Not only does this help to cut down wait time in your pharmacy, but you're also offering a convenient service that customers will appreciate. EvolutionPOS also allows you to implement or streamline the delivery process. Using a wireless hotspot you can run real time transactions on the customer's doorstep, including accepting credit card payments and electronic signatures.
For more information on EvolutionPOS, check out our website and download our free E-Book, The Emergence of the Mobile Cash Register. When you're ready to find out how RMS and EvolutionPOS can help your pharmacy, one of our knowledgeable consultants will be on hand to help.
Karen Deckard came to RMS with a background in retail and customer service, and was initially brought on board as a Sales Assistant and managed IIAS certifications for RMS's pharmacy POS customers. Today, Karen works as a Customer Success Manager, striving to provide independent and institutional pharmacies with the tools and resources they need to succeed in today's competitive pharmacy market.