A few months ago, I started using curbside pickup service at the grocery store. The first few "pickups" were free so I figured I'd give it a try. It's not like I really hate grocery shopping, but I thought if I could spend one less hour a week listening to different variations of "Mom, can we go home now?" on repeat, it was definitely worth it.
It only took a couple of pickups to convince me that this was the way to go when it comes to necessities. It's easy, saves me time, and I actually get home with everything that was on my list.
Grocery is just one of the retail verticals adopting curbside pickup. What started at restaurants has now expanded to major retailers like Target and even Home Depot, who has announced a new program where customers can pick up online orders from a convenient locker.
If you've thought about curbside pick-up before, but just haven't taken the leap to implement the service, there's no time like the present to get started. If you aren't convinced it's the way to go for your pharmacy, here are some points which may make you reconsider.
Competition through convenience – Many retailers cite the need to compete with online retailers as one of the primary reasons they offer curbside services. It combines the convenience and time savings of shopping online with the desire for immediate gratification. In other words, customers can get what they want without scouring shelves and standing in line and they can have it today.
Create Loyalty – Customers remember the little things. Whether it's a negative like waiting in line just a few minutes too long, or a positive. When it comes to retail pharmacy, one of the biggest positives you can have is a quick, easy and seamless checkout process. Customers will definitely remember how convenient it was to make a quick call, pull into a parking space, and have their prescriptions delivered right to them.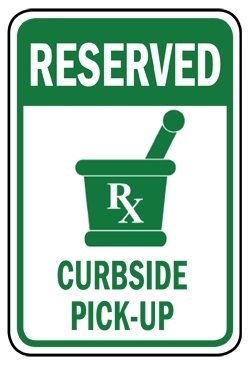 A viable (even improved) alternative to drive-thru – Drive-thru windows are a standard for many pharmacies. And they are definitely a great convenience. But not every pharmacy has that option. If it's not already built into your building, adding a drive thru window represents an enormous expense, or even an impossibility for some. Curbside pick-up offers the same convenience to customers and there are even a couple of added benefits. First, curbside is a more personal experience as it removes the window and lane barrier from customer/staff communications. Second, it gives your pharmacy the flexibility to serve more than one customer at a time. No lines, just parking spaces. (You can even designate curbside pick-up spaces with these awesome signs!)
The technology is here – If technology or process concerns represent a barrier to offering curbside pick-up to your customers, there's a solution for that. RMS' EvolutionPOSV2 tablet allows you to take the transaction to the customer. Simply grab a tablet, grab the customers order and head out to process the transaction. You can even start the transaction before the patient arrives (No juggling items to scan curbside, and you'll make sure there are no additional prescriptions for pickup) save the transaction, and resume it when you're ready to process payment and capture signatures.
Keeping up with the competition alone is enough reason to give curbside pick-up service another look. Take the time to consider all of the other potential benefits, along with how easy it can be to implement this solution. Are you ready to get started?