Pharmacy point-of-sale used to be one size fits all. There wasn't much too it for any type of business. An electronic cash register was all anyone needed. Today, it's a pretty big stretch to imagine that a pharmacy could run at peak efficiency with a generic cash register. Just rules and regulations alone make technology-based tools a necessity.
Today's pharmacy POS offerings come in many different varieties. Of course they all have different feature sets and varying degrees of functionality. This is good for you as it means you get to choose the system that best suits the needs of your pharmacy. But there's another factor to consider. What physical form will your POS system take? The answer to this question will impact your pharmacy's workflow, image and productivity.
So how do you decide? We think a good starting place is to get a firm understanding of some of the benefits and draw backs associated with each major POS hardware form factor.
Traditional – This is what most people think of when considering point-of-sale. You'll be equipped with computer, monitor, barcode scanner, cash drawer, receipt printer, and card acceptance device. Maybe you even throw a customer display in there. (And let's not forget keyboard, mouse and fingerprint reader for biometric log in) There's nothing really wrong with this setup. It's well within everyone's comfort zone and provides a hub for customer service interactions to take place. But there are a few drawbacks. Even with today's small form factor PC's and under counter mounted cash drawers, this setup takes up no small amount of space. You're also tied to the counter for a majority of your customer service interactions and even with brand new hardware you might risk looking a little dated with all of the new, streamlined options available.
Touch screen – While this doesn't stray too far from the traditional POS setup we all know and love, it does offer a few more advantages. All in one touch screen PC's streamline several pieces of hardware into one. In addition to your PC and monitor being combined (and touch enabled) you're fingerprint reader for login can be mounted on the side. There are even special setups that you can get to house the receipt printer in the base of the all in one unit. This is a great option for those not ready to stray from traditional form factors but looking for something a little more compact and modern.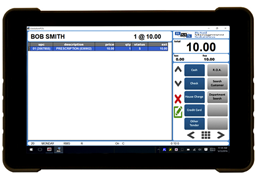 Mobile – At RMS, we've been big fans of mobile technology for pharmacies for quite some time. With the release of our new EvolutionPOSV2 Tablet, we're more excited than ever. Mobile pharmacy point-of-sale gives you the flexibility to process transactions anywhere in your store, at the drive-thru window or even curbside. It's all the functionality of a traditional register in a compact tablet device. It can be connected to a network receipt printer or small Bluetooth hip printer (for those receipts that can't be emailed), and can even be mounted in a counter top dock for ease of use at the front counter. It solves many of the problems seen with more traditional setups by freeing up counter space and exponentially increasing flexibility.
Combination – It's understandable to be hesitant about implementing new technology. Maybe you aren't sure if your employees or customers will respond well to something as seemingly radical as a tablet point-of-sale device. But you shouldn't let that hold you back from forward progress. If you're intrigued by mobile technology but not sure if you're ready to dive in head first, try a combination in your pharmacy. Get a traditional or all in one register to sit front and center at the pharmacy counter, but also get a mobile point-of-sale device for curbside delivery, line busting, and whatever else you can think of.
There's more to selling prescriptions than typing in an amount and making change, and there should be more to your pharmacy POS system than the absolute minimum. Don't underestimate the impact that your POS system's form factor has on how well it meets the needs of your pharmacy.
{{cta('bff769ce-4eac-4cbb-839b-2c44b163b6be','justifycenter')}}