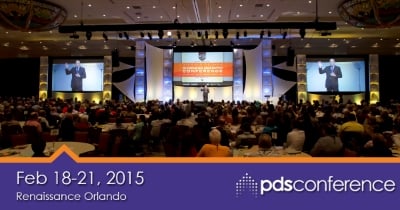 The year-end is fast approaching and many of you will be weighing your pharmacy business, trying to find ways to increase operational efficiency and your bottom line. There are some key questions that every independent pharmacy owner should ask themselves:
Are you experiencing lower margins, lower profits, weaker cash flow in 2014?

What don't you know that the more successful pharmacy owner down the street does?

How can I become a more dynamic leader?
These are tough questions to ask, and we have the solutions for all of them! Every year, we exhibit at the 2015 Independent Pharmacy Business Growth Conference because it is dedicated to unlocking the secret sauce to business success and longevity. We make it a priority to exhibit each year because we know that it is the premier pharmacy event of the year where the most progressive, like-minded pharmacy entrepreneurs meet to share their strategies and ideas.
We want you to join us on February 18-21, 2015 and be among the hundreds of pharmacy industry leaders to reveal the ideas and ways to skyrocket your business.
Retail Management Solutions is dedicated to helping our customers become successful entrepreneurs and pride ourselves on being on the forefront of promoting continuous industry and business-specific education. We have a growing knowledge-base and we want to share it with you!
A vital reason we want you at the PDS Conference is because we know that the pharmacy industry is at the point where it's making a dynamic shift. The biggest mistake any business owner can do is go in the wrong direction enthusiastically and with the constant changes in the pharmacy landscape on the horizon, you cannot afford to go in the wrong direction. More reasons to attend include:
Top-Notch Industry Exhibitors
Every year, the PDS Conference hosts 100+ hand-selected exhibitors who offer the tools to effectively implement revolutionary strategies and streamline business operations.
You guessed it. RMS was hand-selected to exhibit at the 2015 PDS Conference because of our quality, integrity, and dedication to serving the industry and our customers. As a PDS Exhibitor, we have a great deal to offer you. Read on to find out more!
No Boring Speakers or Subjects!
One of the reasons why the PDS conference is being lauded as the premier pharmacy event of the year is their dedication to securing the most outstanding presenters who teach you how to become a strong leader, build a high performance team and create a great company culture. Attendees will be exposed to the ideas that will encourage them to think big and implement successful growth strategies. The speakers will cover some of the most crucial keynote topics, including:


Claim your spot at the forefront of the healthcare and technology industry

Tap into new pharmacy-specific products and services (that most owners don't even know about!)

Launch new, profitable niches (many of which are cash business!)

Manage a productive team that's aligned with your goals and vision

Execute out-of-the-box marketing strategies

Rapidly execute new ideas and build rapport

Integrate creative financial tactics and tax strategies
There are some big names coming this year, so make sure to attend!
Unique Networking Opportunities
Everybody knows somebody in this industry who is absolutely hitting it out of the ballpark. What do they know that you don't know? What would you ask them? The 2015 PDS Conference will extend an opportunity to connect with the top 25% of the most progressive and dedicated independent pharmacy owners. These top industry players are willing to share their most successful growth strategies and pharmacy programs with you!
Ready to register for the most important pharmacy event of the year? Tickets sell out quickly, so register today to make a difference tomorrow!
The RMS Offer
We have negotiated a great deal for our readers to attend the 2015 PDS Business Growth Conference!
Register now and use our promo code: RMS to get $500 off your conference ticket. Each Ticket includes:
A $500 discount on your PDS Conference ticket

One companion ticket to the conference for your spouse, partner or key employee ($1,595 value)
The PDS Offer
PDS is offering ALL ATTENDEES a $10,000 Idea Guarantee. That means if you don't walk away with actionable ideas worth at least $10,000, PDS will reimburse your ticket, airfare and hotel expenses*. This is not hype, it's their way to make your trip worthwhile. There will be no hassle, no hard feelings, no drama. Just tell PDS by the end of the 3-day event and they will write you a check on the spot. Your satisfaction is guaranteed and their #1 priority. (*up to $1000 dollars)

So what are you waiting for? Join us at the only pharmacy event you cannot miss!

Mike Gross is VP Sales and Marketing for RMS. Aside from being passionate about independent pharmacies and making them successful, he enjoys running, spending time with his family, and playing a little poker when he can. He can be reached atmikeg@rm-solutions.com.
{{cta('9a940d28-badf-4e37-a6ee-959244499efe')}}