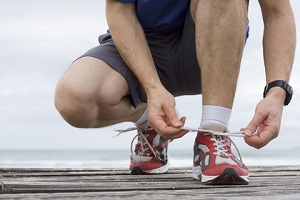 You know those extra lace holes at the very top of your sneakers? Yeah, those extra ones that we never use. Well it turns out that they have a purpose and if used correctly when lacing your shoes, they will help keep your foot from slipping around in the shoe.
This is a classic example of not seeing something that's right in front of our noses. Every pair of running shoes I've ever owned has had that extra little shoelace eyelet, but I never bothered to wonder what it was for and every time I put on my shoes I ignored it. And as a result I also ignored blisters on my feet, jammed my toes, and probably bought way more shoes than I needed to because I couldn't keep them on my feet and assumed they were worn out. The solution was right there, I just didn't take the time to see it.
Now maybe you've known about this lacing trick for a while, but we all have one or two things like this in our personal and professional lives. How much time and resources are you wasting because you haven't looked at the problem from another perspective? Rather than living with something that's causing irritation, pain, or just plain taking up more time than you think it should, ask the question. Is there a way to make this work better? Sometimes that may be simply working with an existing technology partner to find a better way to do things. Maybe there's a feature in your POS system that you just didn't know about that could make AR billing easier (like emailing statements) or ordering products more efficient.
Before throwing long standing relationships in the trash, find out if a little simple re-lacing might just solve your problems. You never know, maybe just like those lace holes, your technology may do things you never knew about!
Co-authored by RMS Support Technician, Billy Rogers