Perhaps this makes me not quite fit in with the rest of my generation, but that whole thing where you can pay with your smartphone from a pre-loaded account… it still freaks me out a little bit. I thought using my debit card and online bill pay made me modern enough, but maybe I'm a little bit old fashioned after all.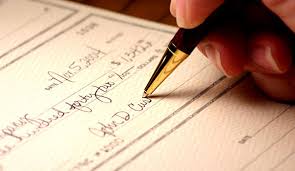 And I think that's okay. Retail spending is still dominated by credit and debit cards, but there are still those who don't quite embrace that as their primary method of payment either. It's hard to believe sometimes, but a good number of people are still more comfortable with checks and cash than they are with any form of electronic payment. And who can blame them when the news is dominated by daunting stories of massive credit card data theft? It can be hard for some people to feel secure using a credit or debit card to make purchases.
While it's important that your customers be able to use whatever tender type is best for them, if you have a large constituency of customers that pay with checks, it also becomes important for you to play it safe with check acceptance. Bounced checks mean lost revenue for your pharmacy plus the fee your bank charges when a check comes back NSF (non-sufficient funds).
There are a lot of companies out there that can help you to reduce acceptance of bad checks. Each way has benefits and drawbacks and it's important to understand each option in order to choose the service that's right for your pharmacy. Here's the rundown of the 3 most popular ways we see today at RMS.
The most robust option that we see today is full electronic check verification. A customer hands you a check and you run it through either a standalone terminal or through a device integrated with your Pharmacy POS system. The account and routing information printed on the bottom of the check is used to actually verify funds in the account to clear the check. In many cases the transaction is then run electronically and the funds are debited from the account. Many services even allow you to hand the check back to the customer when the transaction is complete. This is probably the most surefire way to protect yourself from bounced checks, but these types of services do come with fees from the providers. However, if you're getting hammered with chargebacks and fees because of bad checks, the cost is probably a drop in the bucket when compared to what you're already losing.
Another option we run across for dealing with bad checks is similar to check verification, but stops a little short of the full verification scope. These services go by a number of names but are mostly referred to as check security solutions. These services use the same technology as check verification to pull the bank information from the check and compare that information against a database of known bad check writers and accounts. They identify an acceptable, or not acceptable risk. This type of check security generally costs less because it's not an actual verification of funds but many services will offer an insurance or reduced return check fee.
Finally, a good point-of-sale system should allow you to manage some check security of your own, right from the POS system. For example, the check editor feature within the RMS software enables you to track checks written by customers, mark checks as NSF and even control the value and number checks that customers can write. This helps to protect you from bad check writers without cutting into your profits with additional fees.
A good first step if you're thinking about any of these services is to contact your POS provider for a list of their partners, integrations and recommendations. We'll look forward to hearing from you here at RMS!
Karen Deckard came to RMS with a background in retail and customer service, and was initially brought on board as a Sales Assistant and managed IIAS certifications for RMS's pharmacy POS customers. Today, Karen works as a Customer Success Manager, striving to provide independent and institutional pharmacies with the tools and resources they need to succeed in today's competitive pharmacy market.