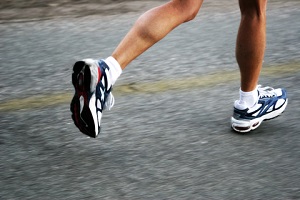 I'm a runner. I've been running nearly all my life. I started in 9th grade, running both track and cross-country for my high school. I was never the fastest, or the leanest, or had the best stride. For those of you who know me, I'm certainly not built like a typical runner. I'm stocky, and certainly not as fast as my competition. But what I do well, and what I did well back when I ran competitively, was train harder than my competition, and strategized how to beat them. I improved my endurance, allowing me to out-run a runner with less training or dedication. My cross-country coach taught me to how to improve my stride so I wasn't striking my feet too hard, which can cause injuries. I figured out that when I was coming up on a runner, I could "quiet" my foot-striking and slow my breathing, so my competition didn't know I was coming up on them. It was a total surprise when I ran passed them, and of course, would take-off, leaving them shocked and demoralized. Just like in business, we have competition that we have to figure out how to beat. So, what does this mean to your pharmacy business?

I came across this article recently that discusses 10 ways to stay ahead of your competition. Now, keep in mind, this article is not for the faint-at-heart. It gets right to the point. It holds no punches. After reading it, I particularly liked this idea:
Seek disruptions
If you always do what you've always done, you won't ever do anything new. Intentionally disrupt the way you do things so you will try new and different approaches. This will open your organization to new growth opportunities.
Of course, like you, we at RMS have competition. I'm sure some of them are reading this article right now! So we also have to seek disruptions, and change the status quo. Dan Benamoz, from Pharmacy Development Services, is famous for saying, "No change, no change!" I take this mantra to heart everyday. When someone in your business says, "That's the way we've always done it." ASK – WHY? ASK – IS THERE A BETTER WAY?
This week we launched our new website. I invite you to explore, consume, and enjoy all the content we now have available to you:
Case Studies
Ebooks
Videos
Podcast Interviews
over 150 articles on pharmacy retailing
and much, much more!
It has been a labor of love building this new website over the last couple months. Our mission statement is "Making our clients the most profitable and customer-centric in the industry." With our laser focus on pharmacy retailing, I truly believe our new website hits the mark, and my hope is you do as well.
So I challenge you, tell me in the comments below, how are you disrupting your business and beating your competition?