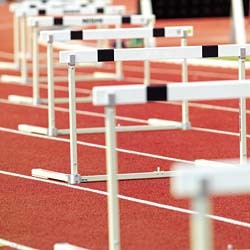 At RMS, there are 3 main goals that we strive to help our customers achieve. Our goal is that, through the use of our point-of-sale systems, our pharmacies can increase growth, efficiency and profitability. Achieving each of these goals means coming up against a set of challenges that will be unique to each pharmacy, and conquering each of those challenges as you face them. Often times in this blog, I talk about how to rise to meet the challenges that many pharmacies struggle against. But what about when you get there? What happens when you've met your goals? The work certainly doesn't end there, as adapting to thrive in the new environment you've created for yourself will present a completely new set of trials, although perhaps markedly less difficult.
Perhaps the most difficult of our main goals to adapt to is growth. Significant growth means that you'll have to make changes to maintain your efficiency, which is key to maintaining your growth and profitability. In retail pharmacy settings, the important thing to keep in mind is that your customers can't suffer because you're experiencing growing pains. This article from one of my favorite bloggers, Seth Godin, does a good job of citing some of the issues that can be experienced and hurdles that need to be cleared when your business is growing. But his conclusion is that your time doesn't scale, so as you grow, you would need to change the level of attention that each patient gets in order to give proper time to the few that really need it. Now we all know that this approach simply will not work for independent pharmacy and is not a viable option for managing your growth. But then what do you do when your efforts to attract more shoppers and encourage customers to shop more often pay off?
To start with, efficiency is a key component to maintaining your growth. A big part of what drove many customers to your pharmacy and kept them there was most likely the efficiency with which your store runs. For some customers, being able to have their transactions quickly and easily processed without a lot of hassle is the most important thing. It doesn't mean they won't want extra attention at times, but making sure that you have the resources to maintain the level of expediency that they are used to will ensure that you can maintain their trust and loyalty. This may mean some additional expense as you start to feel the strain. You may need to add a register to handle the additional flow of customers. This could be a traditional setup, or, if you're short on space, try a handheld register which will save physical space and give you some flexibility as to where you ring up customers. You may also need to take a look at your staffing and hire or arrange schedules differently to accommodate for the increased customer volume. Your pharmacy POS system can help you identify those times when you are the busiest so that you can make sure you have enough staff on hand at peak hours.
The other major factor you'll want consider is sustaining the level of personalized, outstanding service that sets successful independent pharmacies apart from the competition. When it gets busy, it's easy to treat transactions and interactions like an assembly line. Customers may want their transactions to be taken care of in an efficient manner, but they definitely don't want to be treated like a cookie cutter customer. Fortunately, the same basic principles that allow you to maintain efficiency will also help you make sure that every customer gets the level of attention they expect. Proper staffing allows your staff to take their time when the interaction requires. A handheld register can help you to provide more personalized service by removing the barrier of the counter and allowing interactions and transactions to take place anywhere within the store. You can also use your Customer Loyalty Program to keep track of things like birthdays and anniversaries. Train your staff to greet customers as they enter the store and keep an eye out for anyone that might look a little lost and make sure to offer assistance. None of these things will really take much additional time but your customers will notice and appreciate your efforts.
No matter what, growth is a good thing for your independent pharmacy and taking a few simple steps can markedly decrease any stress that you feel as a result and make sure your upward trend continues.
Karen Deckard came to RMS with a background in retail and customers service, and was initially brought on board as a Sales Assistant and managed IIAS certifications for RMS's pharmacy POS customers. Today, Karen works as a Customer Success Manager, striving to provide independent and institutional pharmacies with the tools and resources they need to succeed in today's competitive pharmacy market.
{{cta('c5dceec1-5a46-4059-bf78-6405618d195c')}}