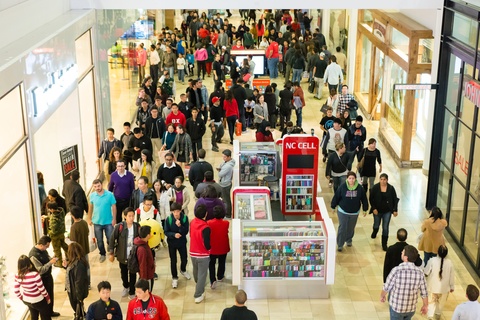 In one short week, many people will be rising early to put their Thanksgiving turkey into the oven. Then they'll start peeling potatoes, prepping the green bean casserole and having a quick pep talk with themselves that the pumpkin pie (or pumpkin cheesecake in my case) that they made last night is not a proper breakfast food. If you've ever cooked a Thanksgiving dinner, you know it's a long day and a lot of work.
But Black Friday can make Thursday look like a cake walk. Cashiers stand ready behind counters and long lines form long before the sun comes up. Some retailers will even open on Thanksgiving night. A trend that has only gained momentum in the last few years.
Here at RMS, Black Friday is usually a little quieter. We munch on shared leftovers and settle in to help those customers who are either in the midst of Black Friday chaos or those who are just taking a quiet day to catch up some projects.
The honest truth is that our day here will be a little quieter than usual because many of our customers aren't quite as busy as normal. The holiday season as a whole will likely offer an uptick in business, but Black Friday is a territory dominated by the big chains. For most pharmacies with a large retail front end, Small Business Saturday is a much better option for boosting holiday sales. You might be surprised at the number of customers who appreciate what independent retailers do for their communities and stand behind businesses that don't force employees to work on Thanksgiving Day.
But Black Friday is still important. It's successful for large retailers every year because they use strategies that are proven to drive customers to their stores. These strategies can be adapted to make the holiday season, or any season, more successful for your pharmacy, regardless of the size of your business or the number of locations you have. Here are a couple of easy principles to implement, regardless of your business size.
Time Limits Create Urgency – Most people don't really need what they purchase on Black Friday. But that shiny new TV was on a pretty good sale and the store only had limited quantities for a couple of hours first thing in the morning. So people lined up 2 hours before the store opened. And they bought that TV to replace their perfectly good one, along with a lot of other things they probably didn't need. And the next morning, a fancy new blender was on sale. Perfect for making healthy smoothies to recover from holiday binging right? So they lined up again. And bought that blender that will probably never be used along with some more things they didn't really need. As this article on consumer behavior notes "When availability is threatened by quantity, competition, or a rapidly ticking clock, it adds a sense of urgency to the decision-making process. Customers feel the need to go shopping now, as opposed to putting it off for later." So set time limits on your sales. Set quantity limits on how many of an on sale item someone can purchase. Restrictions can easily be set in your POS system and may help move customers to purchase items they might not otherwise have bought.
Discounts don't have to be big to get big results – Discounts are great, but for independent businesses, it's a careful balancing act to make sure that they don't sacrifice already slim margins for increased sales. Here are a few ways to make discounts seem bigger than they are. (Bonus: All of these can be easily managed through your pharmacy point-of-sale system)
5 for $5 –

If a product usually costs $1.10, and you put it on sale for $1.00, you're not likely to make much of an impact. But 5 for $5 strikes a different chord. The same can be said for 2 for $10 or 5 for $10. Even without large discounts per item, increased value is implied.

BOGO

–

Buy one get one, or even buy two get one gives the impression of a much bigger discount. The perception of free is a powerful one, even though it averages out to a lower percentage discount

.

Gift with p

urchase –

Similar to BOGO promotions, gift with purchase creates a sense of value that's greater than the hit to your margins. Gift with purchase also capitalizes on that sense of urgency if you have limited quantities. This type of discount

can also help you push sales of specific items.

Here's an idea Mike used to use when he was a department store buyer: buy a closeout or odd lot from one of your vendors at a huge discount, therefore, making it easy to give this item away as a free gift with purchase! Usually if you ask your vendors for closeout or discontinued items, they'll have something in mind!

Loyalty

discounts –

People like to get things because they are special. There's no better way to do that than through your

customer loyalty program

. Offering a special discount or gift with purchase. L

oyalty programs

reward your best customers and gives them incentive to keep shopping at your pharmacy.
Black Friday may be very important to your business or it may barely make a dent. It's important to remember that Black Friday exists and is successful because of these kinds of proven practices. People feel like shopping during the holidays and they get in the habit of spending money. Why not take a few steps to make sure some of that money is spent in your pharmacy?
{{cta('416b0979-9c0e-48ab-9395-546a9dbe281f','justifycenter')}}