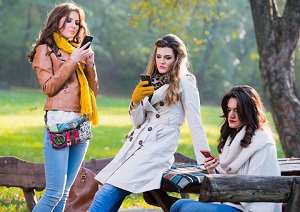 We've all been hearing about mobile trends for a long time. Smart phones, tablets, even smart-watches have changed the way we live our lives. From social patterns to conducting business, from managing our health to entertainment. You name it, and these days, it seems there's a way that someone is using mobile tech to do it.
And this isn't news of course. The thought of mobile optimization has probably been on your mind for quite some time. But if you weren't quite sure, or needed an extra push, here it is: This week, it was announced that Google searches preformed on mobile devices have outstripped desktop based Google searches in 10 countries, including the United States. That's a pretty important piece of news and retailers should take note for a couple of reasons.
First, it's more important than ever to have a strong online presence. I know that in the day to day running of a brick and mortar retail business, it can be easy to underestimate the importance of your website. But it's important. Your website is one of the first places many people will go to learn more about your business (remember, no one uses phone books anymore). If they can't find information about your pharmacy online, guess what? They'll certainly be able to find information about your competition.
Having a first-rate website isn't the only thing you need to worry about. Because of the popularity of mobile based searches, your website also needs to be mobile friendly. If it's not optimized for access by a smartphone, or even a tablet, you'll risk losing potential customers who just don't want to bother to navigate an unfriendly website on their phone when they can download the nearest chain stores app. Additionally, not having a mobile friendly website can impact your Google search rankings, as last month Google changed its search algorithm to reward mobile friendly sites when the search is performed on a mobile device. So now, you could end up lower in Google search rankings if your website isn't optimized for mobile use. I encourage you to check out your website on various mobile devices and make sure it's user friendly.
But mobile trends don't end on the "www frontier". The fact that mobile searches are now more popular than ever before speaks to a larger overall trend. If a mobile device can replace your desktop PC as your primary source of information gathering, it can potentially replace desktop PC's and traditional desk top based applications in other ways. For retailers, mobile optimization has to extend beyond the website and into the store itself.
Adopting mobile technology in your pharmacy and understanding your business through your pharmacy POS system can benefit you in more ways than one. Even though you may not have the marketing resources that many chain stores do, a well designed website shows customers that your pharmacy is just as modern as any large retailer. Don't underestimate the importance of this perception. Old fashioned customer service is one thing, but being perceived as an old fashioned business overall may not be to your best advantage. That being said, mobile technology can also help you maintain the above and beyond customer service that your patients expect. You can more easily preform private one on one counseling, easily help customers pick out additional supplemental items they might need when they pick up prescriptions and deliver prescriptions curbside so customers don't even have to get out of the car.
Here's a good example of one of our customers, Harry Race Pharmacy, who has a great mobile-optimized website (and 2014's AmerisourceBergen's Pharmacy of the Year!). I encourage you to check it out, particulary on your smartphone.
There really are endless opportunities for improving the customer experience using mobile technology. It starts from the moment a potential customer starts a search for a new pharmacy and extends through the entire customer interaction. Rather than run from mobile trends, I encourage you to embrace them as a new opportunity for your independent pharmacy.